Health & Beauty > Health Care > First Aid > Antiseptics & Cleaning Supplies

Organic ALOE FIRST AID For Kids
Price $17.00
Kids safe 2% dilution of 100% Organic Aloe Vera with healing essential oils of Lavender, Chamomile, and Tea Tree. 2 and 4 oz.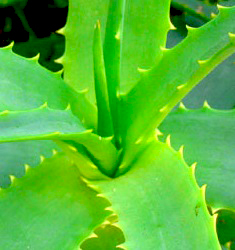 This healing antiviral and antibacterial antiseptic spray really works!
Apply immediately and as often as needed to speed healing and reduce pain, inflammation and infection. Soothes delicate, sensitive inflamed skin. Stimulates the production of healthy skin cells quickly following sun damage, burns, wounds and insect bites. Keep in refrigerator for extra cooling relief!

Ingredients: Organic Aloe Vera Juice, Organic and Wildcrafted therapeutic grade Essential Oils of Lavender, Chamomile, Helichrysum, Thyme Linalol, Lemon Eucalyptus, and Tea Tree, with Flower Essences.
More Natural First Aid Products here.
Check out our Don't bug Me Natural Insect Repellents for Kids here.