Natural Aromatherapy Pet Products
100% Natural Aromatherapy Products with Organic and Wild Crafted Therapeutic Grade Essential Oils and Flower Essences




Cruelty Free, Alcohol-Free, and Never any Artificial or Synthetic Fragrances
GREEN GROOMING & GREEN GIFTS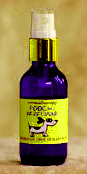 POOCH PERFUME Natural Deodorizer
100% Natural Aromatherapy Pooch Perfume Spray for home and travel to calm anxiety and hyperactivity. Helps repel fleas and ticks. 2 oz.
Price $20.00

Organic ALOE FIRST AID Spray
100% Organic Aloe Vera with healing essential oils of Lavender, Chamomile, Helichrysum. Natural Antiseptic. 4 oz.
Price $17.00

EQUESTRIAN EQIUPOISE Aromatherapy Spray
Horses love the scent of Orange Blossoms. 100% botanical scent with Flower Essences helpful for nervousness, and changing aggression to a mature and balanced handsome nature. 2 oz.
Price $20.00