Health & Beauty > Personal Care > Massage & Relaxation > Massage Oil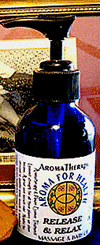 RELEASE & RELAX Massage, Bath & Body Oil
Price $29.95
Liniment strength aromatherapy massage and body oil to release and heal all the places we store tension. Lavender, Lemongrass, Marjoram, Clary Sage. 4 oz.

Concentrated, therapeutic strength relief for sports injuries to help reduce swelling and bruising. Extremely useful for muscle aches and pains, shoulder tension, and soreness including menstrual cramps, tension headaches, stomach aches and gas pains.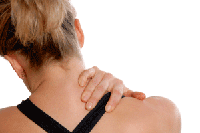 Massage directly onto affected area, or add 1-2 squirts to your bath water for a therapeutic and releasing bath time experience. Antiviral, antibacterial and antifungal. Very helpful in reducing the bruising and swelling of severe sprains and injuries. Dilute with 4 parts vegetable carrier oil for full body massage.

Ingredients: Pure Expeller Pressed Apricot, Avocado, and Grapeseed Oils, Certified Organic Jojoba, Organic and Wild Crafted Therapeutic Grade Essential Oils of Lavender, Marjoram, Clary Sage, Ylang Ylang, Lemongrass and Artemisia Mugwort combined with Flower Essences of Damperia, Menzies Banskia, Purple Flag Flower, Hops and Lavender to release trauma from our cell memory.
Click here to see our Release and Relax Liniment Spray.