Health & Beauty > Personal Care > Feminine Sanitary Supplies > Tampons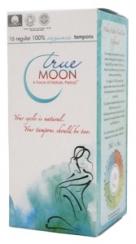 Organic Tampons 20% Off
$10.00
$8.00 On Sale!
You Save
20% Off! Your cycle is natural and your tampons should be natural too.
SAVE 20% on our 100% organic non-GMO cotton tampons.
Regular absorbency. Cardboard applicator.
Cotton is whitened with hydrogen peroxide, not chlorine.
Certified organic, grown with certified sustainable practices.
16 Organic GMO-Free Tampons per box.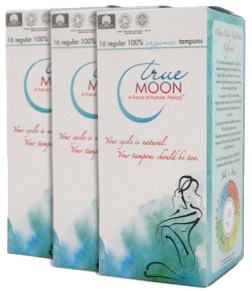 Each box of our TrueMoon® contains 100% regular absorbency, all natural, organic cotton applicator tampons. No bleach or chemicals or synthetic fibers! And we use cardboard applicators, which helps keep those plastic applicators out of our oceans and off our beaches.
What's in the average tampon? Wood pulp, bleach and synthetic fibers that create dioxins -- a highly toxic and carcinogenic chemical. No one knows this, because no one asks - because periods and tampons are relatively taboo subjects.
We have to change the conversation about menstruation to a positive one because if girls and women hear that what makes them fundamentally female is dirty and shameful, they can't very well feel good about being female.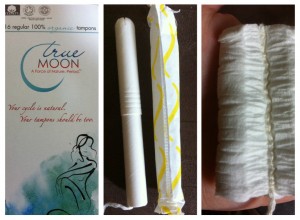 Our mission is clear: We promote a healthier body and attitude; and inspire every girl and woman to feel proud of her natural, powerful cycle and take control of her health.
Our cotton is whitened with hydrogen peroxide, not chlorine - NO dioxin! It is GMO-free, certified organic and grown with certified sustainable practices. The average woman will use about 12,000 tampons in her lifetime. We think it's a good idea to stick with only 100% organic cotton.
Return Policy: Returns are accepted within five days of receipt. Returned item must be undamaged and unopened with tags still attached. Contact our Customer Care for more details.
Watch our favorite video from Women's Voices for the Earth
"Feminine products, like pads, tampons, wipes, wash, sprays, and douche can contain unregulated toxic chemicals like carcinogens, reproductive toxins, hormone disruptors, and allergens. These products touch some of the most absorptive skin on women's bodies. Start giving your feminine products a safety makeover."Women's Voices for the Earth