Home & Garden > Kitchen & Dining > Kitchen Appliances > Water Filters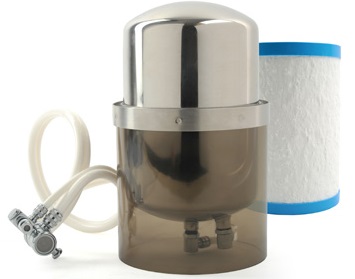 MultiPure AquaVersa - #1 Best Buy Water Filter
Price $455.00
Rated #1 Best Buy Water Filter by America's most trusted consumer magazine! Counter top (shown) or below your sink (with a conversion kit). Easy-to-install. Made in USA. Lifetime Warranty. 90-Day Money Back Guarantee.


Improving the World, One Glass of Water at a Time
Lifetime Warranty on Housings. 1-Year Warranty on Accessories.
Multipure's Aquaversa has been Voted "#1 Best Buy" by America's most trusted independent, nonprofit consumer organization working side by side with consumers to create a fairer, safer, and healthier marketplace.
Multipure Drinking Water Systems Reduce MTBE, Chlorination Byproducts, PCBs, Chloramine, VOCs, Heavy Metals, and More.

Multipure's Aquaversa is NSF 401 Certified.

Counter Top & Below Sink Kits are $45 each.
Capacity Monitor Kit is $35.

The Multipure Aquaversa is a durable stainless-steel water filter that works on your counter top or below your sink. It provides all the taste and health benefits of Multipure filtered water, in a sturdy, easy-to-install package.
What Sets Multipure Apart: Most drinking water systems remove chlorine from water. Multipure is one of the few companies whose products are NSF certified to reduce such a wide array of drinking water contaminants, including such classes as disinfection byproducts or gasoline additives, contaminants that can get into water sources through pollution or leaks. The Aquaversa carries the following NSF Certifications:
NSF-certified for Standard 401: Emerging Compounds/Incidental Contaminants such as over-the-counter medications, prescription drugs, herbicides, pesticides, and chemical compounds like BPA.
Multipure's Aquaversa is also NSF/ANSI Standard No. 53 Certified for Health Effects, and NSF/ANSI Standard No. 42 Certified for Aesthetics. For a detailed contaminant reduction list, click HERE.
Order Replacement Filter Here.
- Lifetime Warranty on Housing
- Made in the USA
- 1 Year Guarantee on Accessories
- 90-Day Money Back Guarantee
- Housing Measures 9"h x 6.5"w x 9"d
- Filter Capacity 750 gallons
Aquaversa Options:

$385 Base Inline System - No Extra Kit Needed The base Aquaversa system can be used "inline" with other existing hardware like your existing faucet, ice maker, etc., but no additional plumbing hardware. It can also utilize compatible below-sink and countertop parts and accessories.
$430 Aquaversa Countertop Kit -- Additional $45 This installation kit includes a dual-hose diverter valve and an acrylic base that lets your system sit on top of the counter next to the sink. The system connects to the sink faucet with the dual-hose diverter valve, providing push-button selection of either filtered or unfiltered water.

The Countertop Aquaperversa is generally intended for use where below-sink installation restrictions are present like apartments or dwellings that lack below-sink space. It can be converted for below-sink use with the optional below-sink kit (AQKITB).


$430 Aquaversa Below Sink Kit - Additional $45 The Aquaversa Below Sink installation kit includes a stand-alone chrome faucet and the necessary hardware to attach the system to a cabinet wall below the sink. The system connects to the cold water line with an included Adapta Valve, and the faucet requires a 0.5" hole available in the countertop or sink for installation.

The below-sink Aquaversa is for a more permanent installation, although it can be removed and converted for counter top use with the optional counter top kit (AQKITC). The below-sink Aquaversa is designed to mount on the side of the cabinet, but can rest on the floor of the cabinet with an optional acrylic base (MC240N).

Aquaversa Capacity Monitor Kit $35
The Capacity Monitor kit includes a battery-operated capacity monitor that measures the amount of water processed through the drinking water system -- and it reminds you when to change the filter. The kit includes a light indicator located at the base of the faucet and lights up when the filter needs to be changed. NOTE: The Capacity Monitor Kit must be installed with a Below-Sink Kit (AQKITB).

NOTE: Both the monitor and light indicator are battery-powered with 2 x AA batteries -- not included. Batteries need to be changed when the filter is changed.

Because the capacity monitor increases the Aquaversa filter capacity to 1200 gallons, it is beneficial for sinks where more than 750 gallons are used per year.

Multipure's Solid Carbon Block Filters reduce a broad spectrum of harmful contaminants:
• asbestos – mineral once used in building insulation; known to cause cancer
• cysts – dormant microorganisms that may include bacteria and parasites
• particulates – miscellaneous physical particles that can cause turbidity
Contaminants chemically adsorbed or reduced by the Solid Carbon Block filter:
• chlordane – used as a pesticide
• lead and mercury – types of metals; known neurotoxins that can poison the blood, nervous system, and brain
• MTBE (methyl tert-butyl ether) – used as a gasoline additive
• PCBs (polychlorinated biphenyls) – a fluid used in many electrical components
• Radon – a radioactive, colorless, odorless, tasteless gas
• toxaphene – a banned, highly toxic insecticide
• VOCs – volatile organic compounds
Contaminants reduced through chemical reaction:
• chlorine and chloramine – chemicals often used as disinfectants
For a detailed contaminant reduction list, click HERE.
The list of contaminants that Multipure Drinking Water Systems reduce does not mean that these substances are present in your tap water. Be sure to check for compliance with state and local laws and regulations.
The problem with disposable bottled water: Individual use of plastic water bottles has become a multi-billion dollar industry. Not only is bottled water much more expensive than tap water, but there is also a serious cost to our planet:

• 50 million barrels of oil are used annually to manufacture plastic water bottles.
• 2 million tons of plastic bottles end up in U.S. landfills each year.
• Bottled water uses fossil fuels in the making, filling, transporting, and recycling of plastic water bottles.


Multipure Independent Distributor: ID #246499